Uninstalling Print Distributor will delete all your virtual printers and their actions so if your intention is to migrate to another machine or downgrade then you should backup your configuration before uninstalling.
Start by opening the "Apps" in Windows Settings and select the entry for Print Distributor. Then click on the Uninstall button to remove Print Distributor. You will be asked to confirm you want to uninstall.

If you have many virtual printers it may take some time to work through them all, when the uninstall is complete you will get an acknowledgement.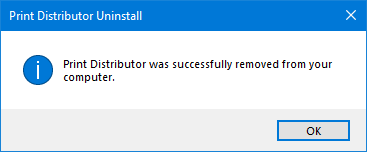 The uninstall does leave behind your registration details and log files, if you want to remove those as well you can find them in the folder C:\Program Data\Print Distributor\.