01 Jan 2019
Version 2019 introduces a new rules system for the Condition action. The interface is easier to use than the old system which was based on VBScript expressions. You can include any number of rules and trigger if any or all of them succeed. The rules dialog is displayed automatically when you add a new Condition action or can be accessed by clicking on the elipsis (
) button on the Rules property.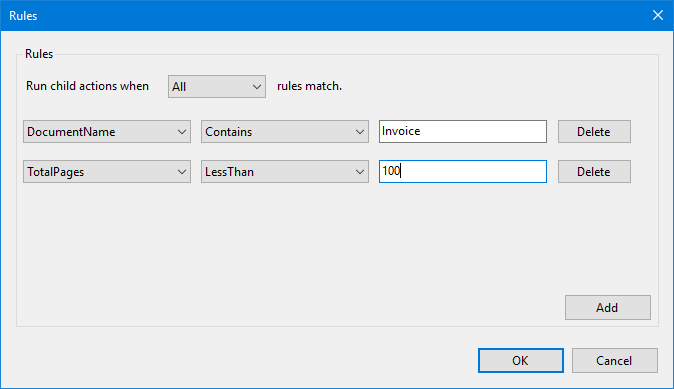 Existing VBScript expressions are automatically included in the rules when you upgrade.
There have been a number of other small changes in this release:
The Options dialog has changed to a traditional format rather than being based on a property grid.
The maximum log file size has been increased to 10MB (previously it was 1MB).
The Reprint action now includes printer status when trace level logging is enabled.
Email attachments now have an Attachment Name property that specifies the name as it appears in the message.
Backing up the configuration will ask if you want to include the log files and system information with the backup.
The template editor supports the Now variable in the preview.
Clicking on the service status in the status bar pops up a context menu allowing you to start and stop the service.
If the print spooler is stopped then the configuration in Print Distributor is disabled until the spooler is started.
Before and After actions have moved to the Tools->Global Actions menu.
The GhostScript action now warns if there is no %!PS-Adobe comment in the header of the printfile. This is usually indicates an incorrect printer driver.
This is a free upgrade for anybody with version 5.0 or later. For versions 5/6 you will need to re-enter your license code after applying the update.
01 Jan 2018
Our first release of 2018 brings some enhancements to the logging in Print Distributor. We have introduced more logging levels so now you will see Trace, Info, Warning and Error messages in the log. These are all available in the Log Message action for your own logging. The options include an entry for the minimum logging level so you can filter out unwanted noise, by default this is set at Info so Trace messages aren't included. The log also includes seconds in the time column as well as the printer name, this is useful if you have many printers running concurently. Finally log messages from the manager program are logged in a separate file, manager.txt.
Some of the other changes since the last major release include
Fixed a bug with handling long jobs on legacy queue introduced with last release.
Fixed bug with legacy queue not handling jobs serially.
Send Mail action now uses merged version of templates in the log.
Updated winsvc to the latest version.
Exceptions in Accumulate actions triggered by a timeout are now caught and logged.
Password now serialises correctly when using the Send Mail action with the Accumulate object.
Mail server password is now encrypted in temporary JSON context files.
Fixed a bug with multithreaded option being inverted.
Upgraded Newtonsoft JSON.Net.
Restored reprint notification logging.
VBScript, JavaScript and Condition expressions now have access to the Context through a global variable Context.
This is a free update for users of version 5.00 or later.
14 Aug 2017
The Standard Virtual Printer in Print Distributor captures documents using a TCP/IP loopback port. This used to be set to port 9100 and incremented for each new printer. With this release we have increased the base to 9200 and allowed you to set a custom value. This should avoid conflicts with any printer software listening on port 9100.
There is also a small change to the Ghostscript action, it now tries to write a dummy file before creating the PDF. This flushes out any errors with permissions which are quite hard to trap with Ghostscript.
This is a free update for users with license for versions 5.xx, 6.xx and 2017.xx.